Performance
Magnus Carlsen, king of fast&blitz chess! The former world champion has won another stage of the GCT2023 tournament!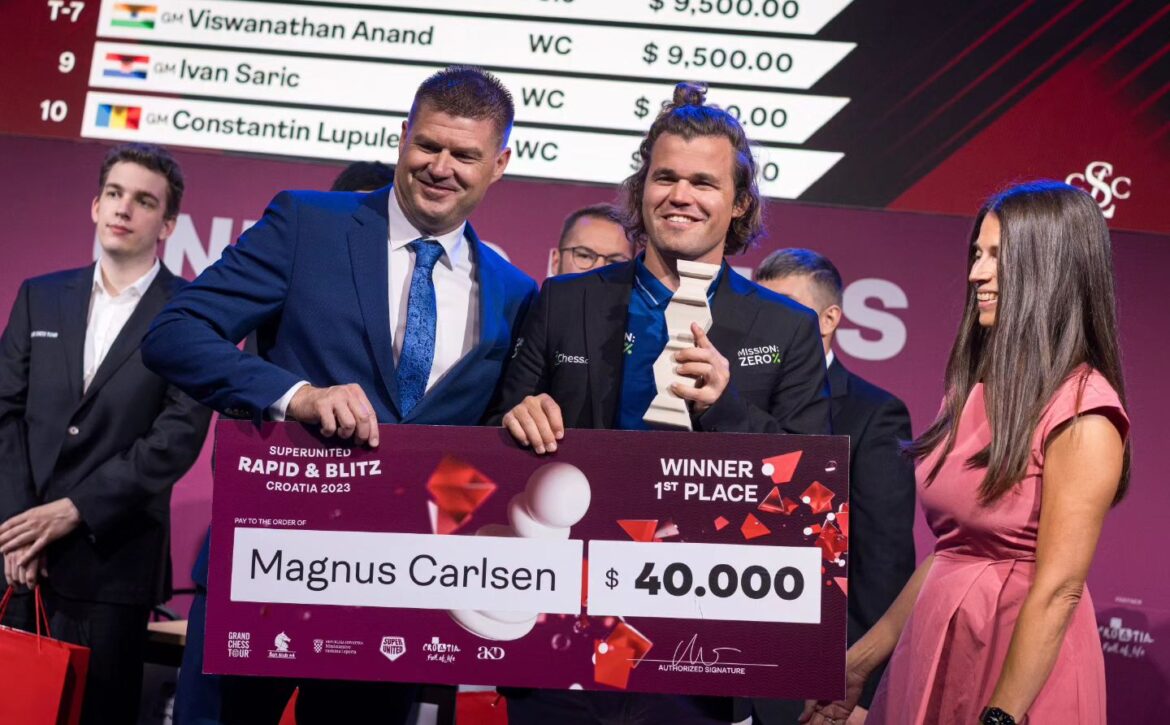 Magnus Carlsen has struck again at the Grand Chess Tour 2023! The former world champion has won another round of the tournament after an extraordinary run in blitz chess. 
The Norwegian grandmaster made a great debut in the first rapid&blitz stage of the Grand Chess Tour 2023 in Poland. Now, less than a month later, Magnus has achieved a second success and won the Superbet Rapid&Blitz Croatia trophy.
This year's round in Croatia gave us a chess show of great proportions. The first 3 days kept the audience in suspense with 9 rounds of rapid chess where nobody could predict who would be the champion.
Grandmaster Vishy Anand got off to a great start on the first day, managing to get two wins and a draw, placing him at the top of the leaderboard. The next 6 rounds of rapid chess went in favor of Grandmasters Fabiano Caruana and Ian Nepomniachtchi, who were tied for first place at the end of the rapid chess tournament.
Magnus proved once again that he is an exceptional chess player and a comeback expert. The two blitz tournaments in the competition fitted like a glove for the former world champion, as he managed to outclass his opponents with an incredible 9 consecutive wins in the first blitz rounds. The end of the two blitz tournaments propelled Magnus to the top of the rankings after a 14-2-2 record.
At a distance of 3 and a half points from the leader, Ian Nepomniachtchi finished second in the ranking, followed by Alireza Firouzja with a total of 22pct.
Final standings:
1-Magnus Carlsen 26/36p
2-Ian Nepomniachtchi 22½/36p
3-Alireza Firouzja 22/36p
4-Fabiano Caruana 21½/36p
5-D Gukesh 19½/36p
6-Richard Rapport 19/36p
7-Vishy Anand 16½/36p
8-Jan Krzysztof Duda 16½/36p
9-Ivan Saric 12/36p
10-Constantin Lupulescu 4½/36p
The Superbet Rapid&Blitz ended to a standing ovation as the last European leg of the Grand Chess Tour 2023. The European trio was brilliantly completed by the world's best chess players, and the show will continue with the two rounds in Saint Louis.